Go to your GoToWebinar Control Panel and open the Audio tab. Then click on the "No audio" button. Then, change this setting back to "Computer audio." This usually does the trick.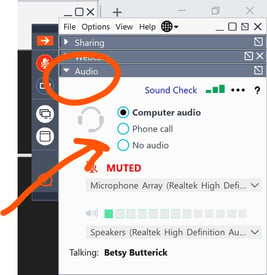 If your computer audio is still not working, click on the Phone call button. This will provide you with the dial-in number to hear the conference using your phone. Once you dial in, you will be prompted to enter in the access code. You will still be able to watch the webinar on your computer.


How to access the dial-in information outside of GoTo Webinar:
Check your email for the "what to expect at the WAVE" email sent on Friday, Aug. 14, which has information on how to access the conference via a variety of devices. See below for an example.